TubeCube® Tubing
Connector System
What is the TubeCube® System and How Does it Work?
WHK's TubeCube® Tubing Connector System (Patent Pending) is the industry's most convenient way to connect several different tubing types and sizes to one single connection point. The innovative design creates a virtually leak-proof seal between tubes while providing a smooth inner bore with unrestricted fluid flow path. See how they're put together here.
What are the Advantages of the TubeCube® Tubing Connector System?
Join several of the industry's most common tubing types including C-flex®, Advantaflex®, PharMed® and Silicone in a single TubeCube®*
Join different tube sizes in a single TubeCube® eliminating the need for step-down connections.
Fewer connections mean less chance for contamination and leaks
Get the reliability of overmolded connections without the overmolded price
Use any length of tubing you desire between connections – no restrictions
Smooth inner bore gives you unrestricted flow and minimizes turbulence
Depending on complexity, quantity and availability of parts, our lead times are usually between 4 to 6 weeks from receipt of P.O. and final approval of drawings, not 14 to 16 weeks like the other guys.
Advantaflex® is a registered trademark of New Age Industries. C-Flex® and Pharmed® are registered trademarks of Saint-Gobain Performance Plastics.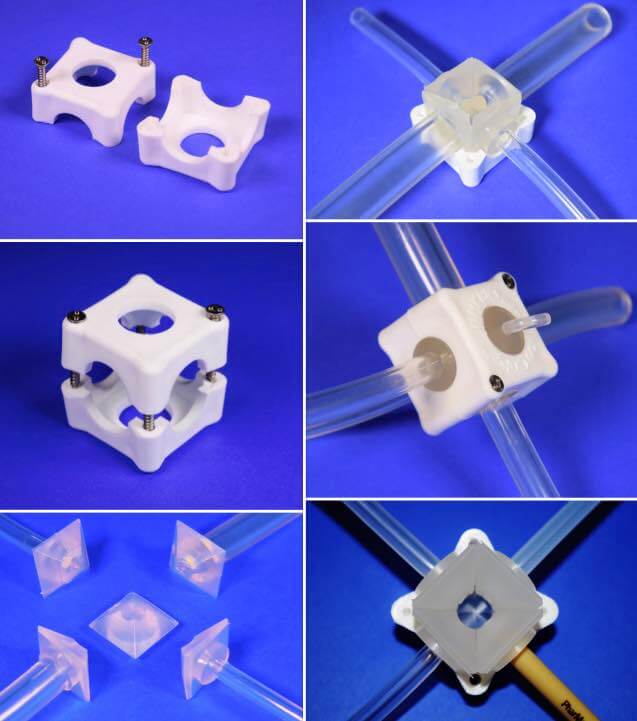 Want more information or a free sample? Call us at (727) 209.8402 or e-mail us or request a sample below.
Request Your
Product Sample
To receive your product sample, simply complete the form below.
Address
11345 53rd Street North, Clearwater, Florida 33760 USA