Molded Sanitary Connectors for Single-Use Technology
WHK BioSystems manufactures molded platinum-cured silicone and TPE sanitary connections for critical fluid transfer applications in the biopharmaceutical, cell therapies, and medical industries.
All components are USP Class VI compliant and formulated to meet the highest sanitary standards and chemical purity.
Class 7 Cleanroom Environment
Sanitary connectors are injection molded in a Class 7 cleanroom facility.
ISO 13485 Standards
WHK's ISO 13485 quality management system ensures the manufacture of the highest quality product available in the industry.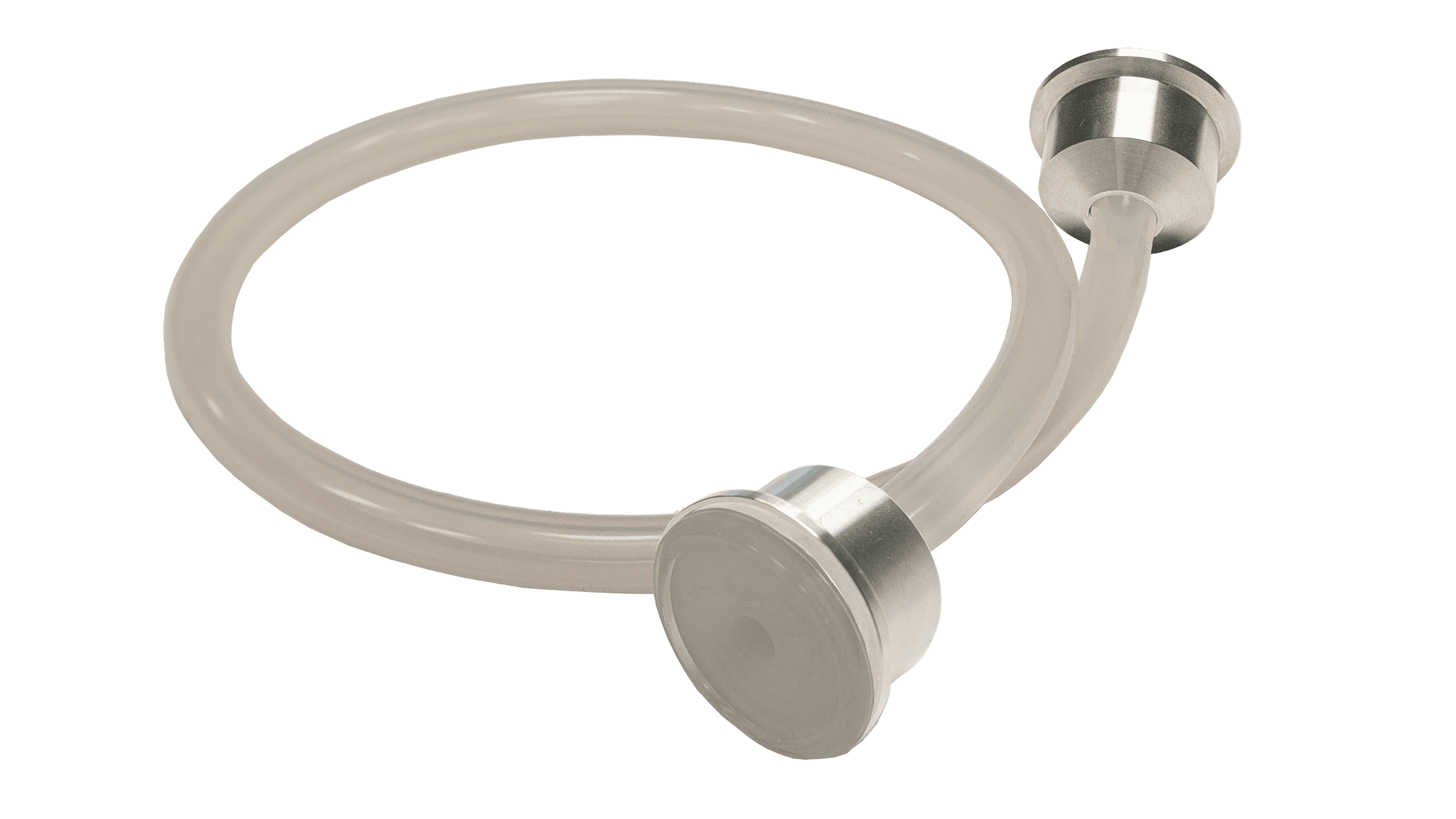 Quality Connectors
Sanitary connectors are made with molded TPE or platinum-cured silicone and come single or double-ended with a polysulfone or Stainless back up cup.
Key Properties
Remains flexible
Certified Free of Animal-Derived Ingredients
Silicone retains temp. range of -100° F to 400° F
Sterilization
Autoclave
Gamma Irradiation
We Are Here.
We understand that each component you select is unique. Let's chat about your requirements and where we can help.
When You Need the Very Best in Sanitary Connections
OPTIONS

1-1/2″ (Standard) or 3/4″ (Mini) Sanitary Connections


Single or Double Ended Sanitary Connections


Choice of Polysulfone or Stainless Back Up Cup


Biopharmaceutical Grade Platinum-cured Silicone or TPE Tubing


Standard Tube Lengths: 12″, 18″, 24″, 36″
BENEFITS

Eliminate barbed connectors & cable ties


Smooth interior surface provides seamless fluid transfer


Standard Gamma Irradiated


Documented lot traceability / packaging identification


Custom assemblies available
CERTIFICATIONS
All product contact surfaces use material tested to the following:

USP Class VI

ISO 10993-5

ISO 10993-6

ISO 10993-10

ISO 10993-11
Disclaimer: User is responsible for determining suitability and safety of all products for intended use. Information as supplied on this site is intended to provide guidance only. WHK BioSystems disclaims all liability regarding product fitness for use. WHK BioSystems has also relied on raw material suppliers for a portion of the information and compliance statements contained on this site.
WHK BioSystems, LLC, maintains an ISO 13485:2016 registered quality management system. It operates Class 7 cleanroom manufacturing facilities.