Design Services
At WHK, we believe that one size does not fit all customers. We listen to your device design needs and keep them at the center of our focus. Allow us to partner with you for the production of an existing component, or together we can explore further options to streamline your supply chain, solve design challenges, and drive down costs.  It's our business to tailor our approach to the unique device design and production challenges that you face. With expert knowledge of performance materials, precision fabrication capabilities, and regulatory knowledge, we provide turnkey solutions for the most demanding device designs.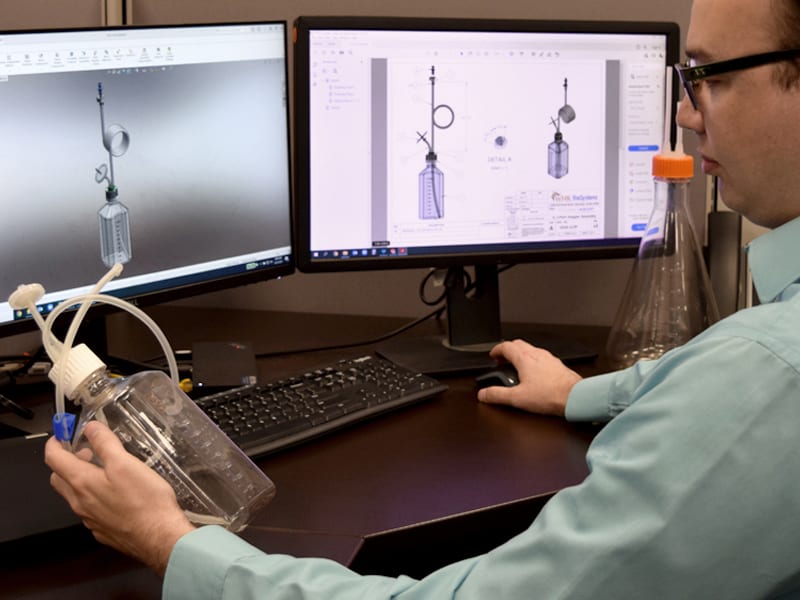 Design Capabilities
From concept to production, WHK BioSystems uses the latest in technology to turn your design ideas into ideal solutions. Our experienced technical staff can aid in the development and design of new components and devices with the help of our state-of-the-art, in-house labs.
Using 3D printing and rapid prototyping, we can provide you with a cost-effective plan. We can also optimize your existing designs to maximize functionality and market appeal. From there, we can scale up and begin production in one of our two Class 7 cleanrooms. We strive to accomplish this entire process without losing sight of cost, quality, and on-time delivery.
Warehouse & Inventory Management
WHK has a 12,000 square-foot, climate-controlled warehouse with inventory management options to support your manufacturing process and supply chain needs.
Disclaimer: User is responsible for determining suitability and safety of all products for intended use. Information as supplied on this site is intended to provide guidance only. WHK BioSystems disclaims all liability regarding product fitness for use. WHK BioSystems has also relied on raw material suppliers for a portion of the information and compliance statements contained on this site.
WHK BioSystems, LLC, maintains an ISO 13485:2016 registered quality management system. It operates Class 7 cleanroom manufacturing facilities.